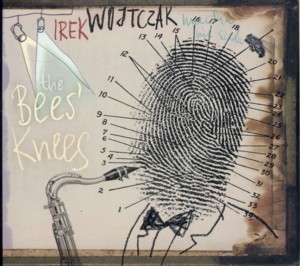 IREK WOJTCZAK ~ THE BEES` KNEES
SOPOCKA ODESSA 008 (Barcode: 5903292104799) ~ POLAND ~ Jazz
Recorded: 2012
Released: 2013
---
Jazz is the Art of the unexpected and unexpected is exactly what the listener will get while listening to this music. Although saxophonist / composer Irek Wojtczak

Find albums by this artist

, a native of the Baltic Tricity, has an established reputation on the contemporary Polish Jazz scene, he certainly does not allow anybody to conveniently put him and his music in a tight niche, which would characterize his music. Constantly developing, probing and expanding his milieu, which over time covered such diverse areas as mainstream Jazz, Jazz-World Fusion, Jazz-Rock Fusion and experimental Free Jazz, Wojtczak with his chameleonic ability to fit in any environment and to do it splendidly, is a superb example of a modern Jazz musician.

The music presented here is first and foremost an expression of individual freedom within the boundaries of a collective. The four musicians truly play together here, but at the same time allow each other a lot of individual space. There are clearly defined melodies and chord changes, but the music turns and twists constantly in each and every direction – harmonic, rhythmic and thematic. There are impressive solos, elegant group improvisations and intelligent moves on behalf of all the participants. Wojtczak, who composed all the music herein, is a very liberal leader, which results in collective creativity rather than musical conformity or obedience. The choice of the guitar, rather than piano, as the quartet´s harmonic instrument suits Wojtczak´s music ideally in this case. All that remains is to hop on and enjoy the ride!
---
Side Note
---
The above are my liner notes included on this album's artwork.

I am honored when asked by the Artists to write liner notes for their albums, always hoping that my words reflect the true spirit of the music. This is also a symbol of our mutual respect and friendship developed over the years.

The same is also true when Record Labels ask me to write liner notes for their releases, mostly in the case of reissues of archival albums, which is a symbol of their appreciation of my knowledge and historical perspective and my appreciation of their dedication to the preservation of the history of recorded music and the effort to keep human Culture and Aesthetics alive.
---