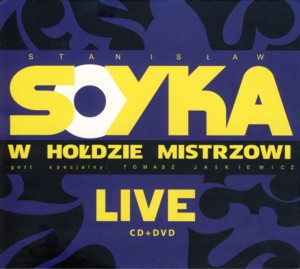 STANISLAW SOJKA ~ W HOLDZIE MISTRZOWI - LIVE
UNIVERSAL 602537329854 (Barcode: 602537329854) ~ POLAND ~ Blues-Rock
Recorded: 2013
Released: 2012
---
This is a live recording of a concert by veteran Polish Blues / Jazz / Rock vocalist Stanislaw Sojka

Find albums by this artist

(a.k.a. Soyka) and his band, performing songs by Poland´s greatest ever singer / composer Czeslaw Niemen

Find albums by this artist

. Niemen composed all the nine songs performed here, three of which also have his lyrics and others are by other lyricists or poems written by Polish poets. Sojka also plays piano and the band comprises of seven players, including a brass section, and a guest guitarist Tomasz Jaskiewicz

Find albums by this artist

, original member of the band Akwarele

Find albums by this artist

, Niemen´s first group, which recorded many of these songs originally.

Considering Niemen´s legendary status on the Polish scene, any attempt to tackle his material is a priori a potentially perilous affair. No other Polish vocalist managed, in the decades that followed, to come even close to Niemen´s power of expression and vocal virtuosity. Therefore this album, although a tribute, faces enormous challenges, which unfortunately prove insurmountable even to such an experienced and talented artist as Sojka. Niemen´s songs needed to be rearranged quite radically in order to fit within Sojka´s vocal range. In addition the instrumental accompanied was updated, which distances the songs from their original Rock setting and places them into a comfortable middle-of–the-road relaxed Pop setting with slight Jazzy overtones. Overall the album sounds incredibly nice, which of course is its key problem; Niemen´s music might mean many different things to different people, but "nice" was never among them.

The music is played perfectly and beautifully recorded, with a warm, clear sound quality, especially so for a live recording. The audio CD is accompanied by a DVD capturing the same concert, so the listener has a choice of just listen to or also watch the proceedings.

Personally, I find little affinity for this project, which simplifies and even to some extent trivializes the original songs in my opinion, but I´m sure many others will find this a most pleasurable listening experience. Luckily I still have the original Niemen recordings to keep the memory alive and the fire burning.
---