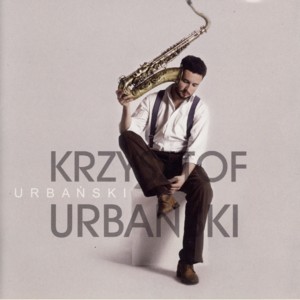 KRZYSZTOF URBANSKI ~ URBANSKI
NOT ON LABEL ~ POLAND ~ Jazz
Recorded: 2009
Released: 2010
---
This is a brilliant debut album by the young Polish Saxophonist / composer Krzysztof Urbanski

Find albums by this artist

and his quartet, with pianist Pawel Tomaszewski

Find albums by this artist

, bassist Michal Baranski

Find albums by this artist

and drummer Tomasz Torres

Find albums by this artist

. The album presents seven compositions, five of which are his originals and two are standards.

From the fist note it is quite apparent that Urbanski is not just one more upcoming saxophonist on a scene overflowing with young talent; he has star quality which is unmistakable. Although the music on this album fits well within the classical Jazz convention (and I´m purposely avoiding the term "mainstream", which unfortunately over the years becomes more often than not associated with mediocrity), Urbanski manages to find very early in his career a very individual tone and approach, which happens very rarely with young players. It is obvious he is capable of reaching beyond the obvious and daring without apprehension, as evident herein for example on his treatment of the two standards, especially the John Coltrane

Find albums by this artist

´s "Giant Steps", which he in a transfixing way manages to turn upside down rhythmically.

Urbanski the saxophonist is truly something else; his beautiful tone, which in its gentle and sweet manifestation is somewhat similar to Stan Getz

Find albums by this artist

and on the more energetic side to the young Wayne Shorter

Find albums by this artist

. Anybody in doubt should simply listen to the solo saxophone track on this album to comprehend Urbanski´s qualities. The five original compositions also prove a maturity one hardly expects to find in young Jazz composers. His melodic, harmonic and rhythmic vocabulary spans the Jazz tradition and presents elegant, intelligent and highly aesthetic listening experience, which simply grows with each listening session.

Very worm words of praise also go to the superb rhythm section, which enables his to spread his wings but also contributes some excellent moments on its own right, with interesting solos and fabulous team work throughout this album. Tomasz Torres, the son of the legendary Polish (of Cuban origin) percussionist Jose Torres

Find albums by this artist

, pushes the quartet with beautiful polyrhythmic and Afro-Cuban influenced drive. Michal Baranski is already a household name on the Polish scene, known as one of the best new generation bassist in the country and his beautiful work on this album reflects his amazing talent. Pawel Tomaszewski also managed to establish quite a reputation despite his young age, with numerous recordings behind him. His solos on this album are simply top class, and his support of the leader is simply perfect.

This is definitely one of the strongest debut albums released on the Polish Jazz scene in recent years, deserving a much stronger applause then it received in actuality. Urbanski is definitely someone to keep an eye on. Wholeheartedly recommended!
---
Visitors' Comments
---
Krzysztof Urbanski
I have never before read such a constructive review of my music. I´m happy and wish to thank you again, Adam!

---