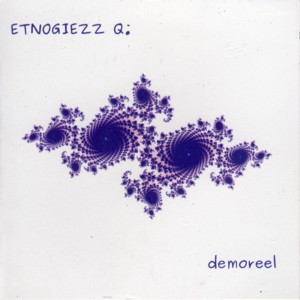 ETNOGIEZZ ~ DEMOREEL (EP)
NOT ON LABEL ~ POLAND ~ Jazz-World Fusion
Recorded: 2013
Released: 2013
---
This is the debut recording, sort of a demo presentation, by a Polish ensemble Etnogiezz

Find albums by this artist

, founded and led by bassist / composer Alicja Szczypta

Find albums by this artist

, who is also involved with several other musical projects in parallel (the energy those young people have…). The ensemble also includes vocalist Milena Szymanska

Find albums by this artist

, trumpeter Michal Blonski

Find albums by this artist

, keyboardist Michal Cywinski

Find albums by this artist

and drummer Nikodem Wojtkiewicz

Find albums by this artist

. The EP presents four tracks, all based on folklore tunes, transformed into what the Szczypta describes as "strange music mixed with folklore".

The most striking feature of this music, in addition to its intrinsic musical "strangeness" is the usage of the Kashubian language, which is a dialect spoken by the people of Kashubia, a northwestern province of Poland bordering with the Baltic sea. It is the only ethnic tongue which is formally recognized in Poland as a regional language (in spite of the fact that many such ethnic tongues exist in Poland). Kashubians make many efforts to keep their unique ethnic identity and heritage alive, and this EP is a great example of such activity.

Musically Etnogiezz is a strange mixture of influences, somewhere between Nu Jazz and Jazz-World Fusion. The rough sound of this recording is a result of both artistic choices and life´s circumstances, but in spite of its "primitivism" it is absolutely charming and intriguing. There is great potential in this particular direction, which I truly hope they will be able to fulfill in their first proper recording. Hopefully they won´t start using lyrics in English…

Listeners, who like experimentation and unusual approach, strange chords and even stranger tongues, will find this effort absolutely fascinating. Warmly recommended!
---