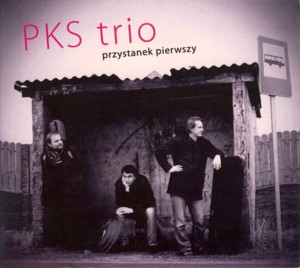 PKS TRIO ~ PRZYSTANEK PIERWSZY
NOT ON LABEL ~ POLAND ~ Jazz
Recorded: 2012
Released: 2012
---
This is the debut album by Polish ensemble PKS Trio

Find albums by this artist

, which is a guitar trio consisting of guitarist Sebastian Rucinski

Find albums by this artist

, bassist Kosma Kalamarz

Find albums by this artist

and drummer Przemyslaw Smaczny

Find albums by this artist

. The album presents seven original compositions, authors of which remain unspecified letting one to assume they are all group compositions. Information about the date and place of recording is also missing, but the sound quality, clarity and ambience are excellent, creating a nice balance between the electric and acoustic sound of the trio.

The music is a pretty unique mixture of numerous elements, like Blues, Flamenco and Gypsy music, mixed obviously with Jazz tradition and bits of Fusion. Based on clear melodic motifs the music is stretched out by lengthy improvised passages, with plenty of space for individual soloing. Overall this is very accessible music, which might appeal to both less experienced listeners and veteran connoisseurs, who will find many elegant and delightful moments, especially the wonderful dialogue between the guitar and the bass guitar.

The performances are very good as well, with the guitarist displaying excellent technique and self confidence, the bassist accompanying the guitar faithfully and intelligently throughout and playing some superb solos along the way and the drummer keeping time unobtrusively and precisely. Overall this high level displayed by these young musicians is beyond reproach. The only minor point of criticism might be that the album stays at the same emotional level almost without exception and the music shows little diversity, which creates an overall impression that every track is a bit more of the same. This will surely be improved in their future releases, when the trio gains more experience with producing albums.

Listeners, who love melodic guitar, will find this album delightful immediately, others might need another listening opportunity, but this music eventually wins over most mainstream Jazz lovers. Definitely a debut worthy of respectful approbation!
---