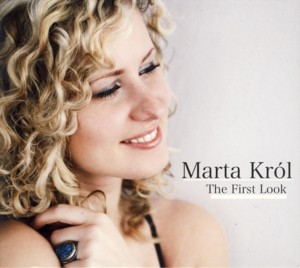 MARTA KROL ~ THE FIRST LOOK
STM 05 (Barcode: 5908248979056) ~ POLAND ~ Jazz
Recorded: 2011
Released: 2013
---
This is the debut solo album by Polish vocalist Marta Krol

Find albums by this artist

, a beautiful Silesian Princess whose looks turn men into stone on sight ;) On the album she presents ten Jazz and Pop standards, dressed up in excellent new arrangements, by keyboardist / arranger Tomasz Kalwak

Find albums by this artist

, who also plays some additional keyboards on the album. She is accompanied by a wonderful quartet of Polish Jazz musicians: saxophonist Dawid Glowczewski

Find albums by this artist

, pianist Pawel Tomaszewski

Find albums by this artist

, bassist Andrzej Swies

Find albums by this artist

and drummer Pawel Dobrowolski

Find albums by this artist

.

Krol has a delightfully warm voice, which she uses most effectively and with a natural charm and sex-appeal. Her musical education is immediately apparent, as she stays in tune at all times, even during the tricky passages and obviously keeps well in-synch with her band. The accompaniment is excellent, with many interesting solo spots by Glowczewski, beautiful piano and Fender Rhodes parts by Tomaszewski and solid and sympathetic support from the rhythm section with virtuosic, but kept in low profile bass parts by Swies, who is consistently perfect every time he appears on record and earns a well deserved position among the best contemporary Polish bassists.

However, in spite of the Jazzy arrangements and instrumental passages, this album is only marginally Jazzy per se. Krol lacks the Jazz sensitivities and fundamental improvisational approach, singing mostly "straight forward". That does not mean she is doing anything wrong, but if the purpose of this album was to present her as a Jazz singer, it fails to do so. Nevertheless it is a very pleasant and well done piece of music, which deserves all praise, especially in view of the fact that it is her debut effort.

Of course there is the usual problem of Polish vocalists stubbornly trying to sing in English, which is an insurmountable barrier, which simply keeps reappearing on almost all vocal albums recorded in the country. It´s not that Krol´s pronunciation and accent are terribly wrong; in fact they are not too bad at all, but her struggle to sound "right" takes away her attention from the music, as always.

My advice to the lovely young lady would be perhaps to try and find out her unique own style, which would amalgamate Soul, Pop, Blues and just a dash of Jazz, and which would serve her vocal talents to the max. And of course perhaps a bit more risk-taking and ambitious material, original if possible and preferably in Polish – with such a formula she is destined to reach places. But than again, who am I, an old fart, to give advice to lovely young ladies singing the Blues?

Overall this is an impressive debut, which holds many promises for those with patience to wait for the lady´s future endeavors. I certainly intend to do so.
---