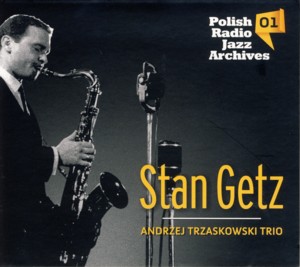 STAN GETZ / ANDRZEJ TRZASKOWSKI TRIO ~ POLISH RADIO JAZZ ARCHIVES VOL.01
POLSKIE RADIO 1567 (Barcode: 5907812245672) ~ USA ~ Jazz
Recorded: 1960
Released: 2013
---
This is the first installment in the new series of releases initiated by the Polish Radio, which presents archive Jazz recordings. Radio recordings are always a fabulous source of remarkable material, and as far as Polish Jazz history is concerned, the Polish Radio, which was a state monopoly for 45 years, recorded over time a plethora of invaluable material, which apart from the albums released by the Polskie Nagrania record company (also a state monopoly), is the only additional source of Polish Jazz recordings. For many years Polish Radio recorded concerts presented during Poland´s most important Jazz venue, the annual Jazz Jamboree Festival and many other festivals as well.

The material presented here was recorded in 1960 during the 3rd Jazz Jamboree and features American saxophone Giant Stan Getz

Find albums by this artist

, accompanied by a Polish rhythm section consisting of pianist Andrzej Trzaskowski

Find albums by this artist

, bassist Roman Dylag

Find albums by this artist

and drummer Andrzej Dabrowski

Find albums by this artist

. Nine of the twelve tracks included here were recorded live during the Festival and the additional three tracks were recorded in the same hall but late at night, without any spectators being presents. All the music comprises of Jazz standards. This recording was made before Getz reached the superstar popularity as a result of his Bossa Nova recordings a couple of years later, but he was already a much respected saxophonist with a very impressive record behind him, although he was just 33 years old at the time.

The story about why Getz opted to play with a local rhythm section has many versions. Most Polish sources quote some vague statements indicating this as being a conscious decision made "in recognition of the talent of the young Polish Jazz musicians". That version has very little support in reality. One should bear in mind that Getz was living at the time in Scandinavia and did not have a steady group he performed with in Scandinavia, where he actually arrived from to play at the Jazz Jamboree (not from the USA). When I talked to Getz about his first visit in Poland (he was there again in 1974 and 1980), he told me that he heard just a little about Jazz in Poland before he arrived there, thanks to the early relationships between the Polish and the Scandinavian scenes, which was about to be expanded in the years to come. His willingness to play with the young Poles should be rather credited to his open-mindedness and general good nature, with always characterized him as a person. Also let us not forget that the logistics and costs involved with bringing an entire quartet from the USA at that time were quite beyond the capabilities of the festival´s organizers.

As to the music, there is actually no need to say much about it. Getz plays divinely, as usual, with his unique tone and virtuosity and the sweetest saxophone sound ever. Obviously enjoying himself enormously, he allows the rhythm section to stretch out, playing relatively long solos. The young Poles: Trzaskowski (aged 27), Dylag (aged 22) and Dabrowski (aged 22) sound like veterans, obviously uplifted spiritually by the event. The music is simply perfect, from start to finish. The wonderful ambience of the hall and the remastered sound quality are spectacular, worm and natural, leaving many contemporary recordings way behind, even though they were done 53 years ago using quite primitive equipment. In short everything about this album is simply miraculous.

The only note of criticism about this new edition is the lack of a proper booklet with proper liner notes, photographs and other well deserved details, which this monumental music truly deserves. Polish Radio really should have made an effort there. A pity!

No wander that this material (in one form or another) was bootlegged countless times and the original vinyl release ("Stan Getz W Polsce

Find albums with this title

") reached outrageous sums on the collectors´ market all over the world. Now they are available in the best sounding quality ever for the price of a regular CD, so don´t even dare to think about this twice. This is an absolute must!
---