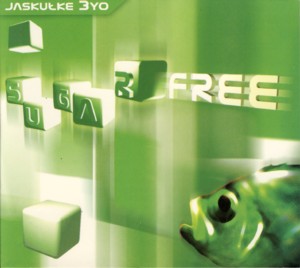 SLAWOMIR JASKULKE ~ SUGARFREE
BCD 03 (Barcode: 5906881885024) ~ POLAND ~ Jazz
Recorded: 2003
Released: 2003
---
This is the second album by Polish Jazz pianist / composer Slawomir Jaskulke

Find albums by this artist

, which was recorded in the classic piano trio format with bassist Krzysztof Pacan

Find albums by this artist

and drummer Krzysztof Dziedzic

Find albums by this artist

. The album presents seven original compositions, all by Jaskulke.

By the time this album was recorded, Jaskulke was already a member of the quartet led by the Polish Jazz legend Zbigniew Namyslowski

Find albums by this artist

, which is the most desirable position for any Polish Jazz musician and which means that his talent was recognized as extraordinary on the local scene. Anybody listening to this album must admit that Jaskulke is indeed one of the most extraordinary musicians to arrive on the Polish Jazz scene in the 21st Century. This album confirms not only his superb qualities as a player, but even more interestingly and dramatically his talent as a composer.

Jaskulke has an easily recognizably personal style, which is quite extraordinary for such a young musician. His approach to the piano is percussive, almost "aggressive" at times, and at the same time he can stroke the keys delicately as a summer breeze. His compositions are also quite distinct and remarkable and regardless of their tempi, they convey a punctuated, but clearly stated melody, irregular meters and ultra-modern rhythmic devices, which can be found in contemporary electronic music. All these, combined with the obvious Jazz legacy create an amalgam, which is highly innovative and surprising.

This music is perhaps one of the most contemporary approaches to Jazz, taking the music from the 20th Century, where it was born and raised, into the 21st Century, where it now develop into a plethora of new directions. It proves that Jazz does not need to be stagnant and can be innovated in many ways, not only in the Avant-Garde / Free / Improvised Music idiom, but also in new and unexpected directions.

The performances on this album are truly stellar, not only those by the leader but also those by the rhythm section. Pacan, who was also a member of the Namyslowski quartet at the time, is a brilliant bassist, capable of a wide range of styles, from classic Jazz to modern, almost Pop / Rock pulsations. Dziedzic is an ideal drummer in this setting, perfectly in sync with Jaskulke in the percussive beat parts and his by and large more Rock than Jazz sound.

Overall this is a brilliant album in every aspect, sadly largely overlooked at the time of its release but certainly deserving an honorable position among the great Polish Jazz piano trio recordings. This is highly recommended to all Polish Jazz fans and Jazz aficionados in general. It´s never too late to discover this priceless gem!
---