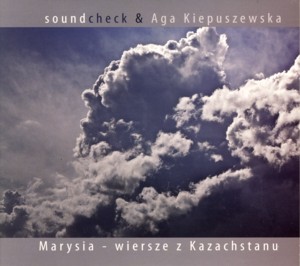 SOUNDCHECK / AGA KIEPUSZEWSKA ~ SOUNDCHECK IV – MARYSIA – WIERSZE Z KAZACHSTANU
BCD 27 (Barcode: 5906881885277) ~ POLAND ~ Jazz & Poetry
Recorded: 2011
Released: 2011
---
This is the fourth album by Polish Jazz quartet Soundcheck

Find albums by this artist

, which comprises of saxophonist Maciej Kocinski

Find albums by this artist

, pianist Krzysztof Dys

Find albums by this artist

, bassist Andrzej Swies

Find albums by this artist

and drummer Krzysztof Szmanda

Find albums by this artist

. It includes eleven original compositions, all of which were composed by Kocinski to the poems written by Maria Kocinska

Find albums by this artist

. Vocalist Aga Kiepuszewska

Find albums by this artist

sings the lyrics and recites parts of the poems, except for one case where the vocals are performed by child Antosia Kocinska

Find albums by this artist

. Several of the pieces also feature string quartet arrangements performed by the Dell`Arte String Quartet

Find albums by this artist

.

The album belongs to the Jazz & Poetry genre, which is utilized often in Polish Jazz, certainly more so than in any other country. However, this time the lyrics are not by a well-known Polish poet, but by the Aunt of Soundcheck saxophonist Maciej Kocinski. These beautiful poems were written between 1942 and 1946 in Kazakhstan, where she and her family were exiled by the Soviet authorities after the Soviets accused her Father of anti-Soviet conspiracy. USSR invaded Poland in 1939, just a couple of weeks after the invasion from the west by Nazi Germany, and as a result Poland was divided between the Nazis and the Soviets according to the Molotov-Ribbentrop pact. This very personal history of one young woman, as told by these poems, is a painful memory of the fortunes of very many Poles, who shared her fate.

These poems, although perhaps lacking the glitter of famous lyricists, are no less convincing and certainly no less moving. They are deeply lyrical, full of sadness, pain, longing, despair, hope, love and faith. Now, endorsed by the wonderful musical veil, they were brought back to life, enhanced and revitalized. The music is perfectly suited not only to accompany the poems but also to paint a perfect soundtrack for the story behind them. The entire album sounds like a continuous musical suite, with the songs, recitation and interim instrumental pieces interwoven into a complete conceptual piece, with is not only highly emotionally effective, buy also aesthetically sublime.

The execution is also exceptional, which is not surprising, as Soundcheck have already established a strong position on the Polish Jazz scene in the last few years. Naturally this music is less adventurous or freely improvised than their instrumental albums recorded previously, but that does not mean it is any less ambitious or complex or beautiful. The limitations involved with incorporating lyrics and music obviously did not present a serious challenge neither to the composer not to the players, and as a result they managed to create an uplifting, awe-inspiring, intelligent piece of music. The vocals, which are somewhat restrained and delicate, are also perfect in this framework. Anything spectacular would have simply spoiled the perfect balance achieved here. Of course the vocalist sings beautifully and her ability to restrain herself is admirable. Kocinski plays several breathtaking solos and his playing seems to grow from one album to another. The rest of the group just do what they do best: play their hearts out.

This is definitely one of the most outstanding albums recorded in 2011, an admirable addition to the Polish Jazz legacy and the Polish Jazz & Poetry movement. As long as there are young Jazz musicians on the local scene, capable of producing music of such quality, the faith of Polish Jazz is in good hands.

Wholeheartedly and most warmly recommended!
---