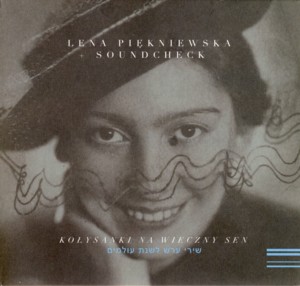 LENA PIEKNIEWSKA / SOUNDCHECK ~ KOLYSANKI NA WIECZNY SEN
NOT ON LABEL ~ POLAND ~ Jazz-World Fusion
Recorded: 2012
Released: 2012
---
This most unusual album presents the music, which is a part of a multi-media show by singer / songwriter Lena Piekniewska

Find albums by this artist

, dedicated to the memory of the Polish Jewry, which was annihilated during the Holocaust. Piekniewska is accompanied by the excellent Polish Jazz quartet Soundcheck

Find albums by this artist

, which comprises of saxophonist Maciej Kocinski

Find albums by this artist

, pianist Krzysztof Dys

Find albums by this artist

, bassist Andrzej Swies

Find albums by this artist

and drummer Krzysztof Szmanda

Find albums by this artist

and violinist / vocalist Maciej Filipczuk

Find albums by this artist

. The album includes fourteen tracks, some including vocals and other being instrumental only. Piekniewska wrote all the lyrics (in Polish, and those were later translated into Hebrew) except in two cases, where traditional lyrics or a biblical text are utilized. The music is a mixture of traditional melodies and new compositions by Piekniewska, Kocinski and Dys. As far as Soundcheck are concerned, this is their fifth album.

This is neither the place nor the time to discuss the actual concept behind this album. The incredible renaissance that Jewish Culture enjoys in Poland in the last two decades is a very complex and not entirely clear matter. Practically there are almost no Jews living in Poland any more and therefore the entire resurgence of interest in Jews and their Culture is inexplicable rationally but in many respects quite wonderful. Sadly it is accompanied by a parallel growth of Polish Nationalism and revolting anti-Semitism.

Musically the album presents a mixture of Jewish (mostly Klezmer) music and Jazz, which is not a new concept and has been explored many times before. Luckily for her, Piekniewska enlisted one of the best Polish Jazz ensembles to stand by her side, which ensures at least that the music is performed formidably. Kocinski, who plays mostly the traditional Jewish clarinet, plays wonderfully and so do all three other members of Soundcheck. The rhythm section has a really tough job, as they can´t apply the usual Jazz formats here, but they overcome the challenge with flying colors. The pianist is wonderfully sensitive and deeply lyrical, playing equally well the traditional and the Jazzy parts. Overall the instrumental part of this album works well, with the music providing the intended tonal reference to the subject matter, being mostly sentimental, melancholic and contemplative. The music is mostly kept low key, which is exactly what the concept needs.

As far as the vocal parts are concerned, I´m afraid that I find them somewhat misguided. The biggest problem for me is the usage of the Hebrew lyrics. Firstly Hebrew was not the language spoken by Polish Jews before the Holocaust, it was Yiddish. Therefore perhaps it would have been better to translate the Polish lyrics into Yiddish and sing them in that language? On the other hand if these memories are by descendants of the victims, Hebrew makes sense in a way. Secondly, the same way I severely criticize Polish vocalist when they sing in English, the same criticism applies here; Piekniewska obviously is not a native Hebrew speaker and her accent and pronunciation are simply inacceptable (at least to people who speak Hebrew). Perhaps a better idea would have been to invite an Israeli singer and record this album in a duet setting with Piekniewska singing in Polish and the other singer in Hebrew. In a way I´m sorry I wasn´t there to suggest this solution, but it probably was meant to be this way.

That said, I must emphasize that Piekniewska does an excellent job as a vocalist, with a delicate, dramatic and clear voice and an obvious sensitivity. All in all her concept certainly works out as intended, in spite of the minor weaknesses and is a moving and honest tribute to the memory of those no longer with us. As someone, who lost almost all of his ancestors in the Holocaust, this album certainly gets my full blessing.

People who are interested in Jewish heritage and unusual musical ventures should find this album fascinating!
---