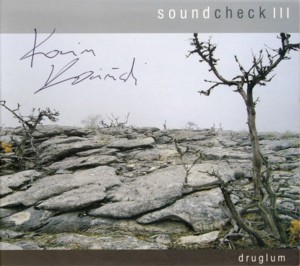 SOUNDCHECK ~ SOUNDCHECK III - DRUGLUM
BCD 24 (Barcode: 5906881885246) ~ POLAND ~ Jazz
Recorded: 2009
Released: 2010
---
This is the third album by Polish Jazz quartet Soundcheck

Find albums by this artist

, which comprises of saxophonist Maciej Kocinski

Find albums by this artist

, pianist Krzysztof Dys

Find albums by this artist

, bassist Andrzej Swies

Find albums by this artist

and drummer Krzysztof Szmanda

Find albums by this artist

. It includes eleven original compositions, eight of which are by the saxophonist and three by the drummer.

For the third consecutive time Soundcheck manages to create an excellent piece of modern Jazz full of sophistication and lyrical power, which has little competition both on the local Polish scene and even worldwide. This is a perfect amalgam of melodic themes with artistic freedom and virtuosic abilities, which simply makes the quartet to stand out as one of the most interesting Polish Jazz ensembles in the first decade of the 21st Century.

Stylistically this album continues the path the quartet travelled on during their two previous albums. The same elements of melodic modern Jazz, which focuses on the compositions rather than on spontaneously improvised themes, are all here. The strength of the compositions steadily grows, with Kocinski clearly achieving a status of an important Jazz composer in view of his collected works on the three albums the quartet released so far. A watchful listener will also notice the personal development of the quartet members as Jazz improvisers. Although Kocinski fronts the quartet unequivocally, the contributions by all three remaining quartet members are an absolutely integral part of the full sound of the group and the effect it entails on the listener.

Listening to the albums quickly becomes one of those rare moments, when the listener wishes for it to go on forever. Tune after tune, instant after instant the music flows engulfing the mind totally, leaving the listener completely defenseless. Albums, which are able to achieve such effect, are very rare indeed. It´s also worth to note that the music more and more often flows beyond the Jazz conventions into contemporary Classical music, with the artificial barriers between genres melting away completely.

This album should be heard by every Jazz connoisseur as an example of what modern Jazz should sound like, at its most refined form. The perfect balance between aesthetic beauty and intellectual excellence is what this music stands for. Brilliant!
---