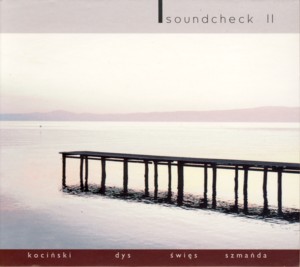 SOUNDCHECK ~ SOUNDCHECK II
BCD 15 (Barcode: 5906881885147) ~ POLAND ~ Jazz
Recorded: 2007
Released: 2007
---
This is the second album by young Polish Jazz quartet Soundcheck

Find albums by this artist

, which comprises of saxophonist Maciej Kocinski

Find albums by this artist

, pianist Krzysztof Dys

Find albums by this artist

, bassist Andrzej Swies

Find albums by this artist

and drummer Krzysztof Szmanda

Find albums by this artist

. It includes ten original compositions, six of which are by the saxophonist, one by the drummer and three are co-credited to the quartet.

Following up the exceptional debut album was no easy task, but the quartet managed to overcome the famous "second album crisis" with flying colors. This album again presents a series of excellent compositions, which are superbly executed, being much more thought-out, with the three tracks (intro-interlude-outro) enclosing the entire musical content under a unified concept. The music is intended to represent the quartet´s search for the meaning of their music, as much as meaning of life. It also reflects their musical inspirations and discloses their influences, like the music of John Coltrane

Find albums by this artist

, to whom the longest track on the album is dedicated.

Several changes between this album and the debut are evident, all being a verification of the quartet´s rapid development and refining process, all of them for good. The music is definitely more relaxed, with a lot of space and less strict melodic dependency, showing a lot of freedom and allowing much more expanded improvisations. The quartet becomes also more unified, as far as interplay and group performances are concerned. Dys is heard soloing much more often than on the debut album and the rhythm section is much more part of the entire music-making process rather than mostly providing just the rhythmic support. Swies, as usual plays some amazing bass lines.

The music is again the focal point with a series of brilliant compositions, which simply scream "Polish Jazz" time after time, emphasizing the finest qualities of it. Sophistication, lyricism and this time even almost Scandinavian composure. There is less World Music influence this time, but perhaps the quartet will return to that path again in the future.

Overall this is another triumphant achievement for the quartet and for young Polish Jazz, which is alive and kicking like never before. Every true lover of Jazz on this planet will find this music as much enjoyable as it is fascinating. Great stuff!
---