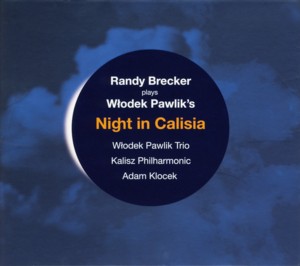 RANDY BRECKER / WLODEK PAWLIK ~ NIGHT IN CALISIA
LICOMP 014 (Barcode: 5903034005490) ~ POLAND ~ Jazz-Classical Fusion
Recorded: 2011
Released: 2012
---
This is the second album on which the legendary American trumpeter Randy Brecker

Find albums by this artist

cooperates with Polish Jazz pianist / composer Wlodek Pawlik

Find albums by this artist

, performing a Jazz suite composed by Pawlik. Their previous cooperation resulted in the album "Tykocin Jazz Suite

Find albums with this title

", which was very warmly received by critics and audiences alike. This time they perform the "Night In Calisia

Find albums with this title

" suite, which was commissioned by the Polish City of Kalisz to commemorate its 1850 Anniversary. The music is performed by Brecker, a piano trio led by Pawlik with bassist Pawel Panta

Find albums by this artist

and drummer Cezary Konrad

Find albums by this artist

and the Kalisz Philharmonic Orchestra conducted by Adam Klocek

Find albums by this artist

. The suite is sub-divided into six sections, which together provide a continuous flow of integrated music.

The suite is based on several melodic themes, which reappear throughout the sections, with some passages performed by the orchestra and others featuring the piano trio and the trumpeter. There are several extended solos, all executed perfectly as expected from such high-class musicians. The instrumentation and arrangements balance beautifully between the Jazz undercurrent and the orchestral parts, with naturally tend to sound more Classical in nature. The music is wonderfully lyrical and melodic, tranquil and serene most of the time, simply stroking the listener´s attention note by note. Brecker plays simply outstanding, with exceptional clarity and stability, which is extremely difficult. Pawlik fills the space with the melodic motifs, always attentive and gentle. The bassist displays sheer virtuosic qualities and a warm sound of rare beauty and the veteran drummer keeps time, when keeping time is needed and gently strokes the set during the more atmospheric passages. This is pure bliss.

I suppose some listeners and Jazz connoisseurs might find this music to be slightly "sugary" at times. Well, perhaps so, but it certainly does not bother me at all. This is supposed to be a melodic, Jazz oriented amalgam of cross-genre explorations, well framed within the Classical tradition as well as the Jazz heritage. Pawlik is obviously a Master of his trade, which anybody listening to this recording must admit fair and square. There is a plentitude of wonderful Jazz / Classical interplays, which are intelligent, interesting and entertaining. The artistry involved both in the composition as well as the execution of this music is definitely praiseworthy.

This album is highly recommended to listeners, who love the proximity of Jazz and contemporary Classical music, and who will find this work delicious at all times. Pawlik confirms his position as a major force on the Polish Jazz scene and listening to Brecker´s trumpet is always a pleasure. Well done!
---