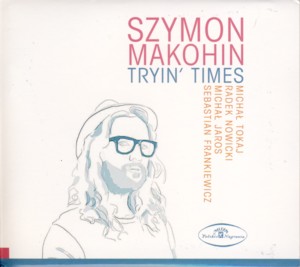 SZYMON MAKOHIN ~ TRYIN` TIMES
MUZA 1449 (Barcode: 5907783424496) ~ POLAND ~ Jazz
Recorded: 2008
Released: 2012
---
This is the debut album by Polish Jazz vocalist Szymon Makohin

Find albums by this artist

, which was recorded in 2008 and waited for four years to finally see the light of day. It presents Makohin performing eleven Pop / Blues / Soul standards, beautifully arranged by pianist Michal Tokaj

Find albums by this artist

, who leads the excellent quartet accompanying the singer, which also includes saxophonist Radek Nowicki

Find albums by this artist

, bassist Michal Jaros

Find albums by this artist

and drummer Sebastian Frankiewicz

Find albums by this artist

. On two of the tracks Makohin performs duets with female singers, the incredible Aga Zaryan

Find albums by this artist

and Irena Kijewska

Find albums by this artist

.

It seems that most Polish Jazz (and not only Jazz) vocalists consistently repeat the fatal mistake of trying to sing in English, which unfortunately in most cases, including this one, simply does not work. It becomes especially apparent in the duet with Zaryan, where the singer´s accent and phrasing contrasts with those of Zaryan, who is one of the very few Polish vocalists able to sing properly in English. Therefore, regardless of how good this album is on the instrumental level, the vocals are a priori an obstacle. Makohin has a very nice tone and obvious vocal talents, but his battle is lost the minute he opens his mouth. It´s a pity he didn´t follow in the steps of other Polish vocalists, like Grzegorz Karnas

Find albums by this artist

for example.

The selection of the material is also quite problematic, as all the songs have a strong common bond of sounding "sweet", with very little diversity, and none of them are challenging vocally. All these songs were performed brilliantly by their original authors, and this slightly Jazzed up version has very little added value. The only case of a Jazz standard present here is more a showcase of a brilliant bass accompaniment than vocal ability.

Of course Tokaj and the quartet play spotlessly and brilliantly, as always. The instrumental work keeps this album alive and kicking, which in retrospect is a pity, since this could have been such a great album under different circumstances.

However, considering this is a debut album, it should not be judged too severely; there is a lot of potential here and Makohin has a lot to offer, so I´m looking forward to hear his next album, hopefully in Polish this time. I certainly wish him all the best and keep my fingers crossed.
---