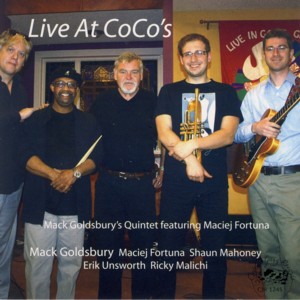 MACK GOLDSBURY ~ LIVE AT COCO`S
CADENCE JAZZ 1245 (Barcode: 786497583027) ~ USA ~ Jazz
Recorded: 2011
Released: 2012
---
This album presents a live recording by a quintet, which comprises of four American Jazz players: saxophonist Mack Goldsbury

Find albums by this artist

, guitarist Shaun Mahoney

Find albums by this artist

, bassist Erik Unsworth

Find albums by this artist

and drummer Ricky Malichi

Find albums by this artist

and also features the Polish Jazz trumpeter Maciej Fortuna

Find albums by this artist

. The American players are pretty anonymous, but Fortuna is very well known on the Polish Jazz scene in the last couple of years and made several recordings as a leader, co-leader and sideman recently. The album includes seven compositions, two of which are standards, two are by Mahoney and the remaining three are by Goldsbury, Unsworth and Fortuna contributing one composition each. The recording quality is quite good and the music has a worm ambience and a clearly defined sound.

Stylistically the music is straightforward American mainstream, which of course in not very exhilarating. Fortunately Mahoney plays some really great and sensitive guitar and Fortuna blows beautifully, as always, being by far the best musician in the quintet and his composition is the most ambitious of the original compositions present herein. There is very little innovation or ambitious improvisation here, with the quintet sticking to the melody like flies to honey, which of course is hardly surprising. To put things in the right perspective, this is a respectable showcase of mainstream Jazz, which simply becomes sort of "not very exciting" after a while.

Of course it´s very educational for Fortuna to play with American Jazz musicians, as Jazz in Poland sounds pretty different in most cases. Dues have to be paid and these cats can swing. So no harm done and Fortuna gets another album in his discography, where he shows off his chops. Would I pay money to buy this music? Sorry… I´d have probably enjoyed the evening at the club when this music was recorded, but not much beyond. But hey, that´s just me, if you like mainstream Jazz, this ain´t bad at all.
---