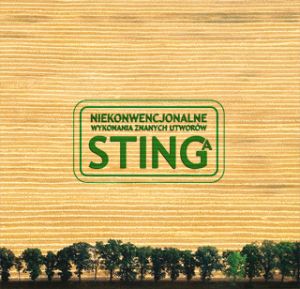 JULIA SAWICKA / PROJECT ~ FIELDS OF SOUL
PRIVATE EDITION (Barcode: 5907529223369) ~ POLAND ~ Jazz
Recorded: 2012
Released: 2012
---
This is the second album by Polish Jazz vocalist Julia Sawicka

Find albums by this artist

and her international band, which includes German trumpeter Hans Peter Salentin

Find albums by this artist

, Czech guitarists David Doruzka

Find albums by this artist

, Slovak keyboardists Klaudius Kovac

Find albums by this artist

and Polish players: saxophonist Tomasz Pruchnicki

Find albums by this artist

, keyboardist Krzysztof Dys

Find albums by this artist

, bassist Roman Chraniuk

Find albums by this artist

and drummer Marcin Jahr

Find albums by this artist

. A string trio is also used. The album is beautifully packaged in a hardcover digipak, which is exquisitely designed and features some breathtaking aerial photography, obviously a high-class labor of love.

The album is subtitled: "Unconventional versions of popular songs by Sting

Find albums by this artist

", which says it all; the ten songs included have been all written (or co-written in one case) by Sting, appear here arranged in a Jazzy manner and are beautifully performed by the ensemble, which comprises of first-class musicians and does not disappoint. So far so good.

However, tackling Sting´s material can be a perilous undertaking, for many reasons; Firstly his songs are quite Jazzy in their original versions, as anybody familiar with Sting´s songbook and career should be aware of, and therefore Jazzing them up might prove to be superfluous. Secondly Sting´s songs are extremely complex, tricky and above all personal, which makes any attempt to perform them by others almost completely impossible. The gravest mistake was leaving the original English lyrics, which presents an insurmountable challenge for a non-native English speaker performing the vocals. Such ambitious project should have taken the additional step of translating the lyrics into Polish, which probably would have made it so much better.

As a result the album certainly presents nothing, which is "unconventional", as stated in its marketing subtitle, being simply one more tribute album of Jazzed up Pop or Rock material, which is certainly nothing new, even on the Polish Jazz scene. Secondly the vocals suffer badly from the English pronunciation, phrasing and articulation, which unfortunately are below par and plainly stand in the way of the vocalist in order to express her best abilities.

All things considered this is still a nice album, mostly due to the great instrumental parts and solos, providing one can somehow isolate the vocals and not be bothered too much by them. Sawicka is probably quite a talented vocalist, but this album is not working in her favor. I´d certainly love to hear more of her work under different circumstances. In the meantime I´ll keep listening to Sting au naturel.
---