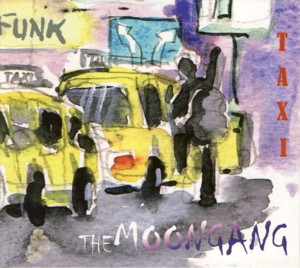 MOONGANG ~ TAXI
ALLEGRO 024 (Barcode: 5901157049247) ~ POLAND ~ Blues-Rock
Recorded: 2012
Released: 2012
---
This is the debut album by a young Polish Blues-Rock / Funk band Moongang

Find albums by this artist

, fronted by female vocalist Joanna Knitter

Find albums by this artist

, with harmonica player Roman Badenski

Find albums by this artist

, guitarist Marcin Wadolowski

Find albums by this artist

, pianist Hubert Swiatek

Find albums by this artist

, bassist Karol Kozlowski

Find albums by this artist

and drummer Piotr Gora

Find albums by this artist

. The album comprises of eleven original songs and one instrumental. The guitarist composed eight of the pieces, the vocalist two and the bassist and pianist contributed one each. Knitter wrote the lyrics to all eleven songs, ten of which are in English and one is in Polish.

Obviously based on the Blues tradition, the music stretches out into other genres, like Rock, Funk and even occasionally Fusion. Almost all the tunes are up-tempo and have a very funky feel about them, which certainly tends to make the listeners dance or at least tap their feet. The instrumental performances are all quite excellent, especially the beautiful harmonica parts, which are the link to the Blues roots of this music, but also the guitar and electric piano solos are a delight. The rhythm section does an excellent job keeping the music moving forward and providing the funky feel. The vocalist has a worm, strong voice, which she uses cleverly and effectively and which is ideal for this kind of music. She has a great timing and phrasing and overall her performances are just what this music needs.

Having said all that, there are some points about this album, which bother me personally, although most local listeners probably won´t mind them at all. I understand the desire of Polish bands to sound "international" and use English lyrics. The vocalist´s English pronunciation and accent are actually quite passable and are not a problem as such, but the lyrics are. Using slang and dirty words does not make lyrics more "native" English, does it? One does not have to even go beyond this very album to see that the sole song in Polish sounds so much better that all the others, in order to learn a lesson not to make the same mistake again, hopefully.

But all in all this is an excellent debut album by a band with a lot of abilities and even more potential in the future. This band most probably kicks ass on the stage like few others and gives the audiences a great time. The album is great for driving, as I´ve experienced, making the long stretch of the road to pass unnoticed. Well done indeed!
---