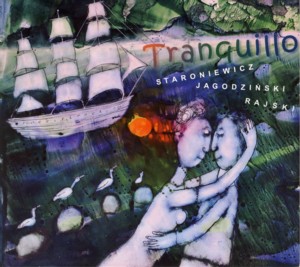 STARONIEWICZ / JAGODZINSKI / RAJSKI ~ TRANQUILLO
ALLEGRO 025 (Barcode: 5901157049254) ~ POLAND ~ Jazz
Recorded: 2011
Released: 2012
---
Lush saxophone, gently strumming piano and a string orchestra sound more like a recipe for a soundtrack to a third-rate erotic movie (i.e. porn flick) than a serious musical venture. The iniquitous "Sax and Strings" trap made many of the best Jazz saxophone players sound like muzak junkies, leaving only a few of them, who managed to create some superb music out of this unforgiving format. I was prepared for the worse when I placed this album into the CD player and hesitantly pushed the Play button. Lo and behold, the music turned out to be simply delightful… what a relief.

Veteran Polish Jazz saxophonist / composer Wojciech Staroniewicz

Find albums by this artist

combines forces with pianist Andrzej Jagodzinski

Find albums by this artist

and his trio, which also includes bassist Adam Cegielski

Find albums by this artist

and Master veteran drummer Czeslaw Bartkowski

Find albums by this artist

. The resulting quartet is accompanied by the Polish Chamber Philharmonic Orchestra Sopot, conducted by Wojciech Rajski

Find albums by this artist

. The album consists of eleven compositions, two of which are originals by Staroniewicz and the rest are standards (four of those are by Antonio Carlos Jobim

Find albums by this artist

). The orchestral arrangements of seven of the tracks were written by another veteran Polish Jazz hero Wlodzimierz Nahorny

Find albums by this artist

, three are by Jagodzinski and the remaining one by Artur Jurek

Find albums by this artist

.

The music is presented on three overlaying platforms: the saxophone, the piano trio and the orchestra; each of those with its separate content, and merging with the other two to create the overall effect and compliment each other. Staroniewicz is a superb sax player and his wonderful tone and flow are absolutely perfect for this music. He plays the melodies, but also improvises constantly, although staying well within the harmonic boundaries. Jagodzinski and his trio are also one of the finest Polish Jazz ensembles, and although their role on this album is mostly limited to provide the Jazzy atmospheric background and rhythmic backbone, the trio´s leader plays several beautiful lyrical solos and the rhythm section swings like there´s no tomorrow.

The strings are the biggest surprise of them all; the arrangements are quite unusual and often not what the listen might expect at all – intelligent, challenging and with a life of their own. Combined with the quartet playing on top they enhance the overall result enormously and one must admit they do it most pleasantly.

Yes, this is the gentle side of Jazz. It is sweet and romantic and beautiful, but it is also clever, perfectly done and heartwarming. It manages to avoid being kitschy, which is so damn difficult under these circumstances. OK I admit, I´m a dead romantic at heart and I love this stuff, exactly for what it is – bite me ;) The album´s artwork is also beautiful, one of the few cases when the artwork fits the album´s contents perfectly. Great stuff!
---