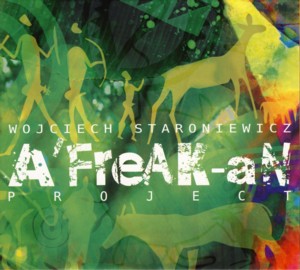 WOJCIECH STARONIEWICZ ~ A`FREAK-AN PROJECT
ALLEGRO 021 (Barcode: 5901157049216) ~ POLAND ~ Jazz-World Fusion
Recorded: 2010
Released: 2011
---
This is a very interesting concept album by veteran Polish Jazz saxophonist / composer Wojciech Staroniewicz

Find albums by this artist

, dedicated to African music. Staroniewicz assembled an unusual lineup, fronted by a four-saxophone brass section: himself on tenor, Przemek Dyakowski

Find albums by this artist

on tenor, Dariusz Herbasz

Find albums by this artist

on baritone and Irek Wojtczak

Find albums by this artist

on tenor and soprano saxophones. There are no keyboards, as appropriate for African music, which are replaced by typical African instruments like marimba and kalimba, with some vibraphone, all played by Dominik Bukowski

Find albums by this artist

. The rhythm section comprises of bassist Janusz Mackiewicz

Find albums by this artist

and drummer Adam Czerwinski

Find albums by this artist

and two percussionists complete the lineup: Larry Okey Ugwu

Find albums by this artist

and Slawomir Berny

Find albums by this artist

. The album includes seven original compositions, all by the leader, and was recorded "live" in the studio.

Rather than copying obvious African elements, Staroniewicz creates a set of compositions, which are African more in spirit than in form, a task which is most commendable and of course much more difficult. The brass arrangements sound similar to African Brass Bands, mostly those from Southern part of the continent, but what is most impressive, is that Staroniewicz presents Africa as a whole, with music influences originating from all the four corners of the Black Continent – North with its Middle-Eastern flavor, West with its typical rhythm signatures, East with its enchanting expressive melodies and South with its highly energetic, danceable spirit. The decision not to include keyboards, especially electronic ones, adds significantly to the authenticity and genuineness of the overall result.

Although obviously a team effort, especially in light of the live recording circumstances, there are plenty of great solos by all the players involved. These are all experienced and talented musicians, mostly leaders of their own ensembles and the common strength of their conglomerated effort is quite impressive. One should note that although this is obviously a Jazz-World Fusion album, the ethnic elements are not dominating the basic Jazz feel and order of things here, which happens so often in this genre. After all these are European musicians, who grew up on European aesthetics and heritage, and for them pretending to be native Africans would be ridiculous. Therefore this subtle and intelligent approach is much more effective.

In addition to the great musical content the album is also beautifully packaged and the graphic design of the digipak enclosure is simply wonderful and highly original, which proves how much thought and love went into making this album.

Highly recommended to Jazz-World Fusion enthusiasts, who should enjoy this music wholeheartedly and repeatedly, discovering the many layers it has to offer. Nice stuff!
---