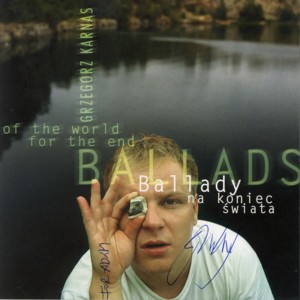 GRZEGORZ KARNAS ~ BALLADY NA KONIEC SWIATA
NINTH FLOOR 1002 ~ POLAND ~ Jazz
Recorded: 2004
- 2005
Released: 2006
---
This is the third album by Polish Jazz vocalist / composer / arranger Grzegorz Karnas

Find albums by this artist

, one of the most unique and talented representatives of the young generation of the local Jazz scene. Born in the southern Polish province of Upper Silesia, Karnas graduated form the Jazz Institute at the Katowice Academy of Music, where a large percentage of the young Polish Jazz musicians get their initial graduate education. His debut album "Reinkarnasja

Find albums with this title

", released in 2000, created quite a stir on the local scene and immediately established him as one of the most significant newcomers.

Stylistically this album is a direct continuation of its predecessor "Sny

Find albums with this title

", except for the fact that all the music was co-composed by Karnas and cellist Adam Oles

Find albums by this artist

(who also plays on the album) with lyrics by Karnas. The thirteen pieces are all relatively low-key, hence the reference to ballads in the title, although they have little in common with what is considered a ballad in classic Jazz other than the slow tempo. The accompaniment is also more subtle than on the previous album, with more ambient background sounds and less typical Jazz solos. Oles, who plays his cello mostly as if it was an acoustic bass, sets much of the overall sound and atmosphere. Other participants include saxophonist Radoslaw Nowicki

Find albums by this artist

, keyboardist and electronic sounds creator Tomasz Kalwak

Find albums by this artist

, and congas player Bogusz Wekka

Find albums by this artist

. In addition two guest artists also participate: pianist Michal Tokaj

Find albums by this artist

and guitarist Damian Kurasz

Find albums by this artist

.

Karnas apparently found in Oles an ideal partner in his search for a decisive stylistic crystallization, which is quite apparent here. His vocal explorations are less chaotic and outrageous, with spontaneity replaced by self-control and moderation, which of course does not make his music any less exciting. But this album is somewhat less accessible and immediately likeable that his earlier work, perhaps due to the depressing lyrical subject matter (end of the world), which is apparent not only in the lyrics but also in the somewhat gloomy melody lines. All in all this is definitely another excellent piece of musical artistry.

Karnas is a unique voice and everything he recorded is worth the listeners´ attention, especially since vocal Jazz is such a neglected area dominated by mediocrity if not worse. Therefore this album stands out as a beacon of hope that not all is lost and the end of the world will have a wait for a while. Exciting stuff!
---