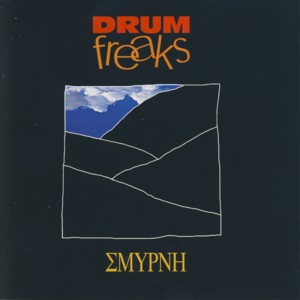 DRUM FREAKS ~ SMYRNA
MILO 106 ~ POLAND ~ Jazz-World Fusion
Recorded: 2003
Released: 2003
---
This is the second album by Polish ensemble Drum Freaks

Find albums by this artist

founded and led by Milo Kurtis

Find albums by this artist

, a multi-instrumentalist / composer of Greek origin living in Poland. Kurtis is a prominent figure on the local scene, having been involved with many legendary local groups, like Ossian

Find albums by this artist

(a.k.a. Osjan

Find albums by this artist

), Maanam

Find albums by this artist

and others. A versatile musician and a charismatic personality, Kurtis performed in such diverse musical fields as Folklore, World Music, Reggae and Free Jazz. On this album the lineup includes, apart from the leader, guitarist Janusz Yanina Iwanski

Find albums by this artist

, keyboardist Piotr Iwicki

Find albums by this artist

, saxophonist / flautist Mateusz Pospieszalski

Find albums by this artist

and percussionist Joannis Kurtis

Find albums by this artist

. Ex-Jamiroquai

Find albums by this artist

player Wallis Buchanan

Find albums by this artist

appears as a guest playing didgeridoo. The album includes eight original compositions by the leader and other members of the band, including Buchanan, all of which were recorded live at the St. John´s Church in the Northern port city of Gdansk.

The music is an amalgam of melodic World Music from many different sources, but most significantly from the Mediterranean, ornamented by improvised Jazz oriented solos. As far as the Polish scene is concerned, this is definitely an unusual phenomenon, although Kurtis was involved in somewhat similar projects earlier, albeit in more meditative and experimental form. The overall atmosphere is serene and even lyrical at times, but successfully maintains an element of development and interest, unlike many similar projects, which quickly cross over into mediocre Muzak.

Kurtis, who is a deeply spiritual person (I had the pleasure to meet him during my production of "The Book Of Job

Find albums with this title

" album in which he took part), manages skillfully to avoid the populism often involved with Western musicians performing World Music originating from non-Western sources. The music herein offers an opportunity to the musician to cooperate rather than compete, with little show-off and modern-times rush into the unknown. As Kurtis himself describes it, this is "early morning" music, which sounds best before out minds get clotted by the infernal noise that surrounds us all in today´s world. For me it also sounds great late at night, when I try to wash out (mentally at least) the day´s pressures. But I suppose that every listener will be able to find a proper moment for this music, as suitable to their souls.

Listeners, who like Jazz-World Fusion excursions, should definitely try this album out as soon as possible, as it is one of the nicest pieces of that type that I happened to stumble upon. Considering that many Jazz-World Fusion albums are quite kitschy, this one is a gem!
---