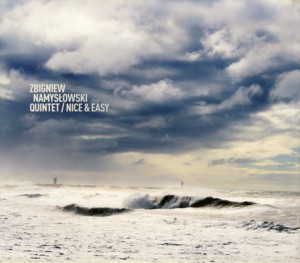 ZBIGNIEW NAMYSLOWSKI ~ NICE & EASY
ITM 14125 (Barcode: 4250079711253) ~ POLAND ~ Jazz
Recorded: 2008
Released: 2009
---
This superb album by Polish saxophonist / composer Zbigniew Namyslowski

Find albums by this artist

was recorded with a quintet comprising of young musicians including his son trombonist Jacek Namyslowski

Find albums by this artist

, pianist Slawomir Jaskulke

Find albums by this artist

, bassist Andrzej Swies

Find albums by this artist

and drummer Grzegorz Grzyb

Find albums by this artist

. It presents ten new original compositions by Namyslowski. It was recorded at the excellent Studio Tokarnia and engineered by Jan Smoczynski

Find albums by this artist

– a guarantee of sonic fidelity.

At the time of the recording Namyslowski was almost seventy years old, being one of the few remaining last Mohicans of the first post-WWII Polish Jazz generation still active on the local scene. There is absolutely no evidence on this recording of Namyslowski´s age, surely not in the negative sense. He seems to be completely confident both as a composer and a performer and stands hip to hip with the "youngsters" not giving up an inch. It is hard to believe that the same person took part in the legendary 2nd Sopot Jazz Festival in 1957 and was a member of the Krzysztof Komeda

Find albums by this artist

quintet that recorded "Astigmatic

Find albums with this title

" in 1965, and yet these are just a few of Namyslowski´s amazing career milestones.

Namyslowski´s compositions were always his forte, as he manages consistently to present a completely unique musical signature, which includes many different characteristics, like the odd meters he so often uses or the unexpected tempo changes, all those on top of beautifully structured melodies, which are simply magnificent. Therefore the musicians playing with him are supplied with a perfect vehicle for their respective solos. Although the music conceptually belongs to mainstream Jazz, it always comes with a twist which makes it anything but predictable or simplistic. On the contrary these tunes take a while to get used to and have a wonderful quality of growing on the listener with every listening session.

The quintet performs like a dream, obviously inspired and directed by the Master. These young and extremely talented musicians keep the splendid tradition of the Polish Jazz alive and kicking, this time also learning from the best. Namyslowski continues his tradition to lead groups comprising of young musicians, which keep him invigorated and at the same time serve as a hothouse growing generation after generation of new players.

The album was released on the German ITM label and the album´s booklet includes liner notes by the excellent Jazz critic Bert Noglik, who is familiar with Namyslowski´s music since many years. All in all this is a superb modern Jazz album, which should keep happy even the sternest Jazz connoisseurs, and of course deserves a honorable place in any serious Jazz collection alongside the earlier albums by this great Artists. A must!
---