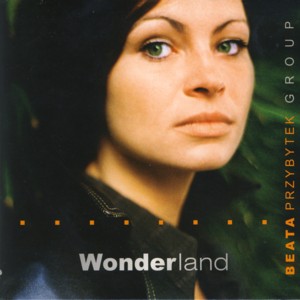 BEATA PRZYBYTEK ~ WONDERLAND
NOT TWO 767 (Barcode: 5907589871678) ~ POLAND ~ Jazz
Recorded: 2005
Released: 2005
---
This is the third album by Polish Jazz vocalist Beata Przybytek

Find albums by this artist

, recorded with her quartet, which comprises of pianist Dorota Zaziablo

Find albums by this artist

, bassist Konrad Basiuk

Find albums by this artist

and drummer Ryszard Balcer

Find albums by this artist

. Guest artists include percussionist Slawomir Berny

Find albums by this artist

, guitarists Jacek Krolik

Find albums by this artist

and Jaroslaw Smietana

Find albums by this artist

and veteran saxophonist Janusz Muniak

Find albums by this artist

. On this album Przybytek says farewell to the Jazz standards songbook, which she used on her two earlier recordings, and dedicates this entire project to songs by the great Stevie Wonder

Find albums by this artist

, selecting ten of his well-known tunes and presenting them in new arrangements, which results of course in a tribute album of sorts.

Wonder´s songs, although catchy and beautifully melodic, are by no means straightforward musically and Przybytek takes quite a risk here attempting to re-invent the Master singer / songwriter by changing his original songs utilizing a Jazzy arrangement but also playing around with the melodies harmonically, twisting them and altering their tempi, usually to half the original speed. Somehow magically all this works out fine and the resulting music has a life of its own; still close enough to the source to be easily identified but at the same time significantly different to make things interesting.

Her vocal performances are her best to date, showing undeniably that she sings well when not limited by stylistic restrictions, i.e. her Jazz education and experience, utilizing mannerisms and vocal routines commonly used in Soul, Rhythm and Blues and even Rock. All these influences finally amalgamate in her vocal performance on this album, which immediately put her on a completely new plane musically. Her vibrato is simply irresistible, causing goose bumps and other inexplicable physical and metaphysical effects to the innocent listener.

She gets a very sympathetic support from the quartet, especially the acoustic bass, which is right at her side at all times supporting her wonderfully. The percussionist plays on several tracks, keeping his arsenal to minimum, which is very tasteful and rare since percussionists often tend to dominate every recording they´re on. Both guitarists and the saxophonist solo briefly, ornamenting the album but not adding any vital contributions, which would change its quality.

All in all this is a very bold statement, beautifully executed and full of wonderfully sensitive musical tricks and treats. It takes more that a single listening sessions to really appreciate this album, but that is quite customary for all quality musical ventures as this one. A few more spins and the listener is hooked entirely. In many respects this album could appeal to a wide range of music connoisseurs, both those who prefer Jazz and those who like Pop material. Quality is a universal heart opener, and this album definitely opens many hearts!
---