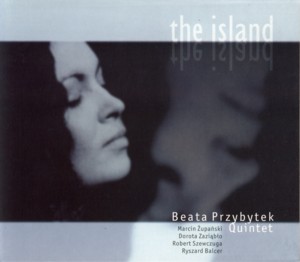 BEATA PRZYBYTEK ~ THE ISLAND
PRK 057 ~ POLAND ~ Jazz
Recorded: 2003
Released: 2004
---
This is the second album by Polish Jazz vocalist Beata Przybytek

Find albums by this artist

, recorded with her quintet, which comprises of saxophonist / flautist Marcin Zupanski

Find albums by this artist

, pianist Dorota Zaziablo

Find albums by this artist

, bassist Robert Szewczuga

Find albums by this artist

and drummer Ryszard Balcer

Find albums by this artist

. Same as its predecessor, which was recorded eighteen month earlier, this album presents nine classic Jazz vocal standards, sung in their original English version. There are no arrangement credits on the album´s liner notes. The album was recorded while Przybytek was still a student at the Academy of Music in Katowice where she studied Jazz vocals and her group comprises of her fellow students from the same school as well as students from the Academy of Music in Krakow.

The result is in many respects a direct continuation of what the debut recording offered, but it is much more relaxed (and even somewhat lax), suggesting more self-confidence. Effectively it lacks the youthful enthusiasm and spontaneity and therefore also looses some of the charm of the debut album. Przybytek saves the day by exposing her ability to stretch her voice and use a husky tone most effectively, which brings her closer sonically to Soul and Blues rather than to the straight-forward Jazz format. On this album her talent obviously outgrows the abilities of her cohorts and with a different band she would have probably achieved a much better result.

All in all this is still a very nice mainstream vocal Jazz album, which should make most of the fans utterly satisfied. Przybytek is a very talented singer and once she reached her full potential as singer / songwriter all her qualities came to full bloom. In the meantime this is a nice souvenir from the student days. Definitely worth investigating!
---