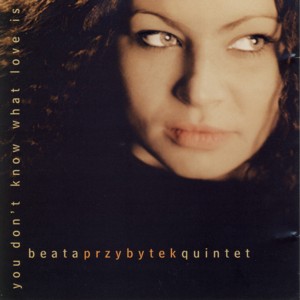 BEATA PRZYBYTEK ~ YOU DON`T KNOW WHAT LOVE IS
PRK 049 ~ POLAND ~ Jazz
Recorded: 2002
Released: 2003
---
This is the debut album by Polish Jazz vocalist Beata Przybytek

Find albums by this artist

, recorded with her quintet, which comprises of saxophonist / flautist Marcin Zupanski

Find albums by this artist

, pianist Dorota Zaziablo

Find albums by this artist

, bassist Robert Szewczuga

Find albums by this artist

and drummer Ryszard Balcer

Find albums by this artist

. Violinist Krzysztof Maciejowski

Find albums by this artist

guests on one track. The album presents nine classic Jazz vocal standards, sung in their original English version. There are no arrangement credits on the album´s liner notes. The album was recorded while Przybytek was a student at the Academy of Music in Katowice where she studied Jazz vocals and her group comprises of her fellow students from the same school as well as students from the Academy of Music in Krakow.

The result is certainly well above the expectations one might have from a group of very young and inexperienced musicians. Both the vocals and the instrumental backing are quite excellent and most importantly have a unique sound and afresh approach to these standards, which have been tried countless times before. The arrangements include enough space for the instrumentalists to be able to show their skills, which they do repeatedly.

Przybytek unveils her warm and expressive voice, which she playfully stretches between seductive meows and heartbreaking howls, all in good taste and with obvious talent. She does not use often the husky tone, which she utilizes on her later recordings, but her enormous potential is quite evident here. She also is one the very few Polish vocalists that can get away with singing in English without sounding utterly ridiculous, which works in her favor. Her intonation tends to be on the Gospel / Blues side, which suits her well.

Overall, although not very innovative or groundbreaking, this is a very solid offering, which as a debut can be definitely regarded as an outstanding effort. Vocal Jazz fans will find this quite delightful, combining youthful enthusiasm and innocence with talent and dedication. Well done!
---