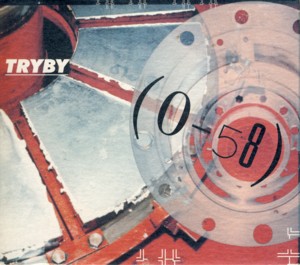 (0-58) ~ TRYBY
0-58 001 ~ POLAND ~ Jazz-Rock Fusion
Recorded: 2003
Released: 2003
---
This is the third album by Polish Jazz vocalist Krystyna Stanko

Find albums by this artist

and her second recording with the group (0-58)

Find albums by this artist

, which paired her as a co-leader with guitarist / composer Maciej Grzywacz

Find albums by this artist

. The group also included accordionist Cezary Paciorek

Find albums by this artist

, bassist Piotr Lemanczyk

Find albums by this artist

and drummer Marcin Jahr

Find albums by this artist

. The album includes eight original compositions, seven of which are by Grzywacz with lyrics by Stanko and one is an instrumental by Lemanczyk, where Stanko uses wordless vocalese only.

Musically the album is a striking amalgam of cross-genre explorations, which could be labeled as Jazz-Rock Fusion, but in truth comprises of many other musical influences and sources, from French musette via alternative Rock, RIO, Fusion, Prog and probably quite a few others, all resting firmly in the Jazz tradition. The eclecticism is not only part of the composition but is also reflected in the entirely unusual overall sonic atmosphere, which moves between the accordion inspired jubilation to dark, melancholic and deeply lyrical pieces, especially those featuring Stanko with Grzywacz on acoustic guitar and supported by the incredible bass lines by Lemanczyk and percussive ornamentation by Jahr. The album offers so many incredible musical moments that by and large the listener has barely time to enjoy one piece of music and is immediately thrown into completely new surroundings.

The level of performances on this album is simply astounding. Stanko, as usual, presents the lyrics with a theatrical sensitivity and the instrumentalists magically perform a set of chameleonic tricks, changing moods and tempi on the fly, often using those strange odd meters, which make music exciting. The decision to use the accordion is a blessing as this fantastic instrument is able to produce a variety of sounds, so sweet and natural, that no synthesizer can ever come close to. Paciorek is obviously a Master and his solos, as well as his accompaniments are a real joy. Grzywacz is a versatile player with great technique and sensitivity, which is quite evident here and his solos are a classic examples of what Jazz / Fusion guitar playing should be all about. Lemanczyk is a true giant, and his strong acoustic bass lines on this album often sound as if produced by a bass guitar, which is quite incredible, Jahr is an excellent drummer and his all-around experience playing in many different musical areas makes him an ideal contributor on this recording.

In retrospect it appears that this is definitely one of the best offerings of the Polish Jazz / Fusion scene in the first decade of the 21st Century and it certainly deserves much more attention and praise than it originally gained at the time of its release. Seemingly out of print, perhaps a reissue us in order? Delightful stuff!
---