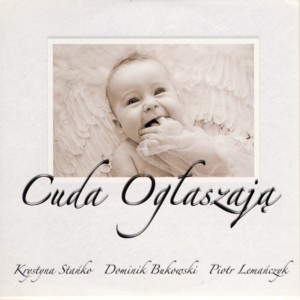 KRYSTYNA STANKO / DOMINIK BUKOWSKI / PIOTR LEMANCZYK ~ CUDA OGLASZAJA
STM 002 ~ POLAND ~ Jazz
Recorded: 2010
Released: 2010
---
This is a wonderful album by Polish Jazz vocalist Krystyna Stanko

Find albums by this artist

and her regular partners: vibraphonist Dominik Bukowski

Find albums by this artist

and bassist Piotr Lemanczyk

Find albums by this artist

dedicated to their arrangements of Christmas Carrols. Poland has a tradition of Christmas Carrols spanning back to the middle ages and including many original Carrols written in the Polish language. The nine Carrols selected for this album include both internationally known Carrols translated into Polish and original Polish Carrols.

Jazz interpretations of Christmas songs and Carrols have been tried many times before, most of them being simply an opportunistic pastiche devoid of any artistic merit. However this recording is surprisingly touching and absolutely stunning musically. The intimate setting of a vocalist and just two accompanying instruments (well veteran drummer Cezary Konrad

Find albums by this artist

does play on one track) seem to be able to bring out the best of everybody on this album. Stanko delivers the lyrics with a heartbreaking honesty and sensitivity, Bukowski paints the melodies and colors the entire atmosphere with his mallets and Lemanczyk carries the music on the back of his incredible bass lines, steady as a rock and virtuosic like butterfly´s wings. The entire delivery is simply breathtaking and in retrospect one must see that Stanko´s sensitivity to the spoken word is at its peak here, ready to explode on her next solo project "Kropla Slowa

Find albums with this title

". The arrangements, which transpose the Carrols into the world of Gospel / Blues / Jazz are artistry in itself, and should be studied in music schools the world over.

The most amazing effect of this album is the fact that it makes the listener actually listen to the lyrics. Most religious music is usually performed in a mantra manner, with the performer uttering the words without actually even trying to comprehend the meaning of the text, especially when it happens during a ceremonial act. I must say that although I have heard these Carrols countless times before, I actually listened to the words for the first time while listening to this album, and was quite surprised by their beauty. Regardless of the religious context, this is pure poetry full of longing for love, compassion, sympathy and understanding, which are universally human.

I can´t think of a better Christmas gift to anyone, who loves music, especially if they understand Polish, but the beauty of this recording knows no language barriers and melts open hearts anywhere. A treasure!
---