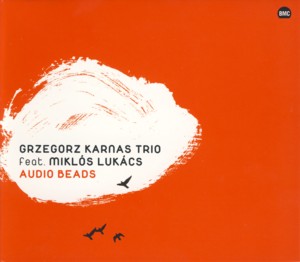 GRZEGORZ KARNAS ~ AUDIO BEADS
BMC 199 (Barcode: 5998309301995) ~ POLAND ~ Jazz
Recorded: 2011
Released: 2012
---
This is the fifth album by Polish Jazz vocalist Grzegorz Karnas

Find albums by this artist

and his first live recording. Recorded in Hungary and released on the excellent Hungarian BMC

Find albums on this label

label, the album captures Karnas accompanied by cellist Adam Oles

Find albums by this artist

, drummer Michal Miskiewicz

Find albums by this artist

and guest artist Hungarian cimbalom player Miklos Lukacs

Find albums by this artist

. Together they perform just five extended pieces, one of which is a Joni Mitchell

Find albums by this artist

song and the rest are originals co-credited to Karnas and Oles. The sound quality of this live recording is absolutely superb, which every single note being perfectly audible.

Karnas presents a unique approach to Jazz vocals, which amalgamates lyrics, vocalese, scat, wordless chanting and spontaneous improvisation. He is always full of surprises and completely unconventional. His vocal modus operandi is based on techniques developed earlier by American Jazz vocalist Bobby McFerrin

Find albums by this artist

and sounds similar to McFerrin´s early work, but of course is inventive enough to avoid being considered simply a replica of the original. Karnas is experienced and talented enough to keep his audiences mesmerized and his extended improvisations manage to sustain tension for prolonged periods of time, which of course is extremely difficult. As this live recording proves, he is a fascinating live performer and listening to him live is perhaps the best way to benefit from his many abilities.

The accompanying musicians are all splendid players and provide excellent support for the vocalist all the way through. The cellist uses his instrument mostly as if it was an upright bass, almost never playing arco. He displays fantastic musicality and virtuosic control of the cello, being the primary partner of the vocalist and complementing him superbly. The drummer plays delicately, often using his hands and brushes, with of course is suitable for this intimate music-making experience. The cimbalom player sounds remarkably like a pianist, which although works well in this situation, is a pity, as it loses the wonderful "original" sound of the instrument, which surely might have added another interesting dimension to this already multifaceted music.

Considering the fact that male vocalists are a rarity on the Polish Jazz scene (and in general), Karnas definitely deserves to be praised for filling this difficult gap. Constantly developing and expanding his vocabulary and technique he is definitely a talent to be watched and enjoyed. This album is certainly a splendid addition to his recorded legacy and a source of immense listening pleasure. Wholeheartedly recommended!
---