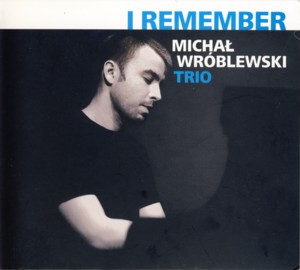 MICHAL WROBLEWSKI ~ I REMEMBER
ELLITE 5903292101217 (Barcode: 5903292101217) ~ POLAND ~ Jazz
Recorded: 2010
- 2011
Released: 2012
---
This is the debut album by the young Polish Jazz pianist / composer Michal Wroblewski

Find albums by this artist

, recorded with his trio with bassist Michal Jaros

Find albums by this artist

and drummers Michal Bryndal

Find albums by this artist

and Wojciech Romanowski

Find albums by this artist

. The first version of this album was recorded by the trio with Bryndal and released as a promo. This, the final version of the album adds four more tracks recorded by the trio with Romanowski. Since both trios recorded the title track, the album´s nine tracks are in fact only eight distinct compositions, of which five were composed by Wroblewski, one by Jaros, one is an interpretation of a John Coltrane

Find albums by this artist

tune and the title track is a contemporary house composition, which proves that Wroblewski listens to other music than Jazz as well. Both trio sessions were recorded at the legendary Studio Tokarnia, with Jan Smoczynski

Find albums by this artist

behind the knobs, which is always a guarantee of superb sonic quality.

The Polish Jazz scene seems to be an endless source of excellent piano players over the years, and the contemporary scene, which hosts both the veterans, the middle aged and the young pianist is simply exploding with talent and activity. Wroblewski is certainly one of the interesting newcomers, who still have to pay the dues and put forward their accomplishments before achieving an honorary position on the pedestal reserved for the Polish Jazz piano giants. Judging by this recording he´s certainly on the right track, as the music presented on this album is quite excellent, both from the point of view of the performance and the compositions. Both trios play elegantly and display individual skills as well as an ensemble spirit, carefully listening to each other. The compositions present a nice balance between the melodic themes, rhythmic progressions and harmonic structures, which are ideal vehicles for the improvised passages. There is a frequent usage of Classical quotes and neo-romantic mannerisms, which are probably mostly sub-conscious and quite understandable considering the pianist´s age.

The overall level of performance is quite excellent, turning this album into an ideal type of piano trio experience, which many Jazz connoisseurs greatly enjoy. The album could have been slightly longer and more adventurous musically, but than again many listeners will probably wish to change absolutely nothing. One can only hope that future recordings by Wroblewski will show him striving to achieve an individual voice and unique style, which will surely come to fruition as he gets older and more experienced. Keeping things in the right perspective, this is definitely a most impressive debut, exposing a talent to be watched. This album is highly recommended to piano trio enthusiasts, but basically every Jazz lover should be able to deeply enjoy this music. Great stuff!
---