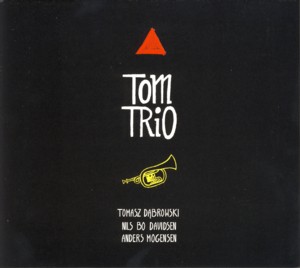 TOMASZ DABROWSKI ~ TOM TRIO
ILK 193 (Barcode: 5706274003871) ~ POLAND ~ Jazz
Recorded: 2011
Released: 2012
---
This is the debut album as a leader by the young (28) and upcoming Polish Jazz trumpeter Tomasz Dabrowski

Find albums by this artist

, resident in Denmark since several years. In spite of his young age Dabrowski managed to gain quite a lot of experience and exposure, playing with many Polish and later Danish Jazz musicians and recording an impressive number of albums as co-leader and sideman. This album was recorded in the difficult trumpet trio format, with Danish bassist Nils Bo Davidsen

Find albums by this artist

and drummer Anders Mogensen

Find albums by this artist

. The music comprises of eleven original compositions, all by the leader.

The overall atmosphere of this recording is close to European Free Jazz, although the melodic motifs in most of the compositions are clearer than in most Free from recordings. The resulting music is an interesting amalgam of typical Polish melancholy and lyricism combined with the wonderful Scandinavian virtuosity of stress-free improvisation. The music is interesting, intelligent and provides an ideal vehicle for the trio to express themselves and demonstrate their individual and collective skills. The balance between the melodic content and the freedom, both harmonic and rhythmic, proves that these are both bright and experienced players.

The album is very much an ensemble effort, as all three musicians contribute equally to the result as a whole. Dabrowski plays some very tasty trumpet phrases, which are clearly influenced by the Godfather of Polish Jazz trumpet Tomasz Stanko

Find albums by this artist

, but manage to eschew any attempt of copying the Master, forming an individual voice, which will surely further develop in the future. The bassist is spectacular and provides not only the necessary balance and camaraderie to the other trio members, but actually drives the music forward. The level of his technical proficiency and more importantly incredible Jazz feeling is simply astounding. The drummer completes the trio, playing rather less than more, which is a commendable quality, adding some imaginative icing to the cake, staying away from boring rhythmic patterns and skillfully adding his delicate touches.

The album is definitely a first class achievement and an excellent debut effort, which does justice to the leader´s abilities and hopefully will serve as an introduction to a long and successful recording career. It is unquestionably one of the best debut albums I heard this year. Now that Dabrowski got me hooked, I will eagerly await his next effort. In the meantime I can only hope that this album gets to as many listeners worldwide, as it truly deserves. Brilliant stuff!
---