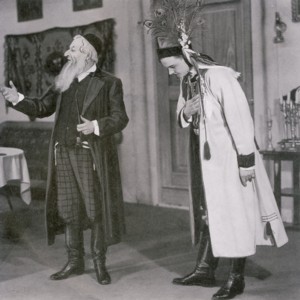 IRENEUSZ SOCHA ~ POLIN
MATHKA ~ POLAND ~ Electronic & Ambient
Recorded: 2004
- 2008
Released: 2012
---
This album by veteran Polish Avant-Garde activist (drummer, vocalist, sound artists, improviser and composer) Ireneusz Socha

Find albums by this artist

is dedicated to the convoluted history of Jews in Poland. Since the Middle-Ages, when Jews arrived in Poland and settled there in huge numbers, they developed over the years a magnificent and thriving Jewish culture, but no less importantly they also contributed radically to the development of Polish culture. Hundreds of years of Jewish presence in Poland came abruptly to a horrific end during the Holocaust, leaving Poland almost completely Jew-Free, and burying the Jewish / Polish Culture buried under the ashes of the crematoria. The few remaining Polish Jews left Poland just a couple of decades later, during the repulsive March 1968 political upset.

Since Poland managed to free itself from the Socialist regime by the end of the 1980s, many Polish intellectuals and the tiny Jewish community still present in Poland managed to create an impressive Renaissance of interest in Jewish Culture, slowly unearthing historical evidence of Jewish Cultural life in the past and organizing Jewish Cultural life in the present, with festivals, lectures, museums and many other activities. The overall scope of these activities is quite impressive and often surprising.

The music created by Socha for this album is a collage of electronic sounds and samples, subdivided into nine chapters but playing continuously. Socha also adds some percussion sounds and bayan (type of accordion) player Jaroslaw Bester

Find albums by this artist

contributes some folklore-based sound layers. The poet Jaroslaw Lipszyc

Find albums by this artist

recites one of his poems, which becomes part of the sound collage. The numerous samples are taken from sound archives and include pre-Holocaust recordings portraying Jewish Culture and other significant sound evidence relevant to the whole project. The entire piece is only slightly over 20 minutes long, but it is very intensive and requires attentive listening.

Avant-Garde music can often be dangerously close to senseless cacophony and it´s really great to see that Socha´s project manages to avoid this trap. It is challenging and demanding, but makes perfect sense both conceptually and sonically. This album is a worthy follow up to Socha´s earlier "Sztetlach" project, which shares the same subject matter.

One can only hope that this worthy effort will be eventually discovered by as many listeners as possible!
---